Tasting Paul Jaboulet at Vinexpo 2013
July 13, 2013
The wines of Paul Jaboulet Aîné
During Vinexpo week, I tasted and drank many superb wines, but one stood out more than the others. And you can see why below in the video …
Paul Jaboulet Aîné, has been a producer and negociant of excellent northern Rhone Valley wines based in Tain-l'Hermitage since the early 19th century. Owned by an unbroken line of Jaboulet family members, the business had reached a recent zenith of sorts from the late 1970s (magnificent 1978 and 1990 vintages) with Gerard Jaboulet at the helm. His business smarts, dedication to quality and an engaging personality kept Jaboulet a leader in the region.
Following his premature death in 1997, at the young age of 55 because of a heart attack, some believe that the quality dropped, due to less focused management among his successors. I have not had enough of the wines to be a judge.
The Frey Family, which also owns Chateau La Lagune in the Medoc, acquired  Paul Jaboulet Aîné in 2006 and Caroline Frey – whom I interviewed recently for Wine Searcher – spends about three weeks per month in Tain l'Hermitage and one week in Bordeaux.
During Vinexpo – the world's largest wine fair held once every two years in Merignac just outside Bordeaux – I tasted a fine lineup of Paul Jaboulet wines at the La Lagune stand.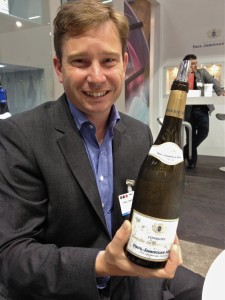 Jacques Desvernois (photo, above) works with Caroline Frey at Tain l'Hermitage and directed the tasting, explaining the various soils of Hermitage where the old 40-60 year old Syrah vines grow (les Bessards, les Greffieux, le Méal and les Rocoules). Desvernois said that Hermitage includes all four types of the region's soils: Alluvial warmer soils, more recent Aeolian soils, the oldest granite soils and the second oldest limestone soils.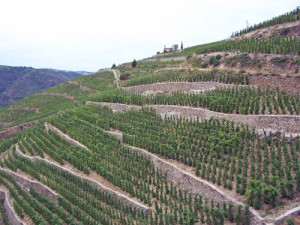 I had visited the steep terraced vineyards of Hermitage in 2005 (photo, above) thanks to another top producer in the northern Rhone, Chapoutier, and was totally impressed by just how steep and narrow they were. What hard work goes into taking care of these vineyards, I thought.
It is important to stress that La Chapelle is not a vineyard but rather a trademark named after the famous chapel. Legend has it that the Knight Gaspard de Stérimberg (whose name is used for the white Hermitage of Paul Jaboulet) returned home in 1224 from a crusade and was given permission by the Queen of France to build a small refuge, where he remained living as a hermit. Caroline told me that the small chapel's roof was recently re-done (June 2013) because everyone in Hermitage is very careful to maintain the historical heritage of the famous vineyard site.
It is said that Hermitage wine became famous after France's Louis XIII made it the wine of the court after being offered a glass during a visit to the region in 1642. Louis XIV presented King Charles II of England with 200 casks of fine wine, including examples from Hermitage, Champagne and Burgundy. The Romanovs also imported the wine, which explains the historical Russian market for Hermitage wines.
In the 19th century wines from Bordeaux were often "hermitaged" (hermitagé, that is, blended with Hermitage) and could fetch higher prices as a result. The appellation was established in its modern form in 1937.
Syrah is the primary red grape of Hermitage, mostly used on its own although appellation rules allow the addition of 15% or less of Marsanne and/or Roussanne grapes. With just under 350 acres of vines, in soil composed greatly of granite and gravels, Hermitage produces 730,000 bottles of mostly red wines annually.  White wines, some very highly prized, are also produced, typically from a blend of Marsanne and Roussanne.
Tasting the wines – whites
Mule Blanche Crozes Hermitage 2011 (white): This is a 50-50 mix of Roussanne and Marsanne grapes coming from vines situated in the middle of the appellation along the "Terraces de Chassis", with clay and chalk and alluvial soils (third oldest in the region) that are generally warm. The name Mule Blanche comes from days when mules were used in the vineyards. This wine had a very pleasing iodine aspect, a salty aroma with freshness and lift. The palate exudes white peach with some citrus elements. Some heft to the finish, but nicely balanced. For 22 euros at your wine shop, an excellent deal for the quality.
Condrieu 2011. Coming from two hectares of vineyards facing south with fine gravel sand on a slope, this wine exudes grapefruit rind and orange and white flower elements, with nice acidity. The harvest is done at the early morning and earlier than everyone else in the appellation. 100% Viognier and 14% alcohol but very nicely integrated, a great wine. 50 euros per bottle.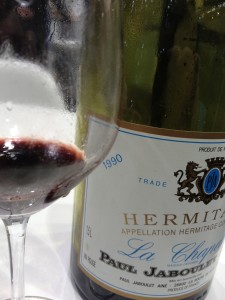 Tasting the wines – reds
Domaine de Terre Ferme Chateauneuf du Pape 2010. 80% Grenache and the rest Mourvèdre. Harvested grapes are transported two hours to Tain and there they are vinified. Really finely balanced. Close to 15 percent alcohol but balancing acidity. Smooth and rich, with a lingering finish. I also had tried the white in Washington D.C. in January and it was also very good. Both wines are marked by a nuanced polish and elegance that transcends typical Chateauneuf du Pape richness. Both white and red retail for about 80 euro.
Domaine de Thalabert Crozes Hermitage 2011. Comes from a selection of 45 hectares of vines. Harvested fresh. Sorting before and after de stemming. No stems used. 28 degree C fermentation, and soft extraction with the Syrah grape, because color comes easily, Desvernois explained. Aged in about 15 percent new oak for one year, then 18 months in bottle at domain before being released. Some warmth on finish, but overall pretty good. 35 euro retail.
Saint Joseph Domaine de la Croix des Vignes 2010: Tobacco like blackberry flavors, I really liked the smoothness here on the palate.
Hermitage La Chapelle 2011. Quite refined, as expected. Tannic spine. Needs time to settle no doubt. Substantial, but I am guessing that 2010 would be more energetic. This would be about 200 euro retail. Quite a lot of cash, and I spoke to some importers in the US who are not very enthusiastic about the pricing – as the wine had been sold for less not too long ago…
Cornas Domaine de Saint Pierre 2011:  I prefer Cornas at this stage, and the price is far friendlier. Lively. Less alcohol at 13.5 compared to 14. Pureness of fruit is evident as vines grown in very northern location, at the top of the appellation: 430 meters high. The harvest here tends to be the last one, Desvernois explained, coming from about 40-year old vines. At 60 euro per bottle, a wise purchase in terms of price/quality ratio.
Cote Rotie 2011. Comes from 100 percent Syrah and costs 70 euros retail. Lovely and smooth pepper like aspect. Nuanced. Warmth but finesse.  About 13.5 percent alcohol.