Château La Lagune in June
July 9, 2013
By Panos Kakaviatos
Château La Lagune has been making some great wines recently, but that is no surprise, given the pedigree of its terroir. Relatively high in the 1855 classification – a third growth – its official ranking surpasses that of fifth growths Lynch Bages and Grand Puy Lacoste, for example.
For larger formats, please click the photos TWICE….
I had the great pleasure of being lodged there for several nights during Vinexpo 2013, the bi-annual wine fair held in Merignac just outside of Bordeaux city proper. It was great to be at the chateau with the illustrious wine authors Stephen Brook of Decanter and Elin McCoy of Bloomberg.
We immediately went through a small vertical of five wines, tasted in the following order: 2004, 2007, 2006, 2009 and 2010.
2004: What wonderful energy in this wine! This was the first vintage for current co-owner and director Caroline Frey, who is capably advised by Denis Dubourdieu. A good start. Coming from a somewhat forgotten vintage, sandwiched between 2003 and 2005. 2003 grabbed attention as a "northern Medoc" vintage because of the extreme heat both day and night in the summer, but will in the end be remembered as somewhat spotty: while some wines are great, including some Pauillacs and Saint Juliens and, especially, Saint Estephes, many exude cloying and annoying dried raisin aromas that I dislike. 2005 is justifiably known as a great vintage: the weather was appropriate to making great wines, and many such wines ensued. 2004 falls into a "classic" vintage category. And I am not using that adjective as a euphemism for average. No! By the mid 2000s, most estates of worth in Bordeaux were taking extra care in the vineyard and vat room, including careful selection of grapes to make wine and careful extraction in the vat room. 2004 is not a super concentrated vintage, as yields were high. It is not a vintage where ripeness was ultra high, either, by its very nature. The better wines from this vintage are drinking nicely today – almost 10 years later. La Lagune is one of them. It conveys fruit, concentration and freshness in a smooth palate that is never over polished or, worse, glossy. Neither is it under-ripe. It is nuanced and tasty, this mix of 60% Cabernet Sauvignon, 30% Merlot and 10% Petit Verdot. If you have grilled steak, get La Lagune 2004 – and prepare yourself for lots of gustatory pleasure.
2007: I love the cedar nose of this wine! But the vintage was not as good as in 2004. Poor weather compromised flowering (just as seems to have done in 2013!). Furthermore, summer was really crappy. A late summer saved the house from total collapse. And – like other 2007s from quality estates I have tried – this wine conveys initial charm. The mid palate is substantial enough, but La Lagune may have over oaked in this vintage, because at this stage still, one gets a bit of oak derived tannin that detracts. The finish, as expected, is not very long. If you have any bottles of La Lagune 2007, I would encourage current drinking. Perhaps with age, the oak derived tannins will melt a bit, but the rather short finish is not promising for rewarding long term cellaring.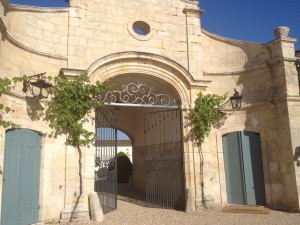 2006: The overall impression I got from this wine – as with some other 2006s in Bordeaux – is stolidity. Not quite clumsy, but certainly not graceful either. Whereas the 2004 conveys sap-filled joyful freshness, this vintage seems more abbreviated. Cellar master since 1999, Jerome Juré, who guided the tasting, suggested that the Merlots were a bit over ripe, which can explain things… The plusses however make this wine superior to 2007, as the 2006 has a juicy mid palate with more substance. I would think that aging will reward owners of La Lagune 2006 although 2004 strikes me as more balanced by comparison, even if 2006 may have more "matière". I would not open any 2006s yet. Wait five years and it should be better, although it may not achieve the charm of the 2004.
2009: Now, I was expected this vintage to be more sensual and inviting. But, no. Juré  calls 2009 at La Lagune "authentic" and very "Medocain." After tasting it, I cannot disagree. Some tasters have noted that even the sensual nature of 2009 is closing down a bit (at this time, June 2013). The wine includes a beautiful tannic structure, but if you have any bottles, do not dare open them. It is marked by power and a certain austerity now. The aromas are there: lovely violet, dark fruit and a fresh earthiness. The palate is however enveloping and tannic, with nicely integrated 14.2 percent alcohol.
2010: What an amazing difference. It could be that the 2010 is just still showing off its primary fruit. But some 2010s in Bordeaux tasted at the same time are not as inviting and seductive as their 2009 counterparts (I am thinking of the 15 vintage vertical I did the same week at Chateau Haut Bailly). At La Lagune, we have the opposite situation. The nose arouses with floral elements and fruit, the wine invites aromatic adoration. And it wears its 14.5% alcohol well, balanced by vivacious acidity that makes it a pleasure, ending with a lifting finish. Juré calls it "more modern" than the 2009. Comparing these two babies, I tip my hat more to 2010 at La Lagune, but appreciate the greatness of 2009 as well.
My conclusion from this lovely vertical: Buy 2004 for current drinking – and 2010 (or 2009) for later.
About La Lagune
It is one of the first major estates you encounter when driving north on the D2 road from Bordeaux, which is only 15 kilometres away. Much of its 72 hectares are on a terrace of alluvial gravel parallel to the palus (rich soil that is productive but not for quality wine) bordering the Gironde River. The so-called Village of La Lagune was built in the early 16th century, with earliest recorded winemaking starting under a certain Monsieur Eyral in the 1580s.
The lovely chateau we know today – check out the photos I took during my stay – was built in the early 1730s. Its interiors today are as tastefully opulent as its exterior is classic.
In its recent history, La Lagune – like other Bordeaux properties – had fallen into disrepair in the years following the end of the Second World War. A certain Georges Brunet bought it in 1954, replanted the vineyards and totally renovated the chai. By the time he sold it to the Ayala Champagne firm in 1961, the property had been transformed.
While tasting the five vintages with Juré, it was great to also be joined  by Patrick Moulin, who has been with the estate since 1971, and believes that the best vintage ever is the 1982. In spite of all the changing techniques, the lower yields, the greater selections in recent years etc. "Sometimes miracles happen," he remarked, referring to 1982.
Moulin represents a continuum of sorts since 2000, when both Chateau La Lagune and Champagne Ayala were sold to the Frey family. When the Freys sold Champagne Ayala, they bought legendary estate Paul Jaboulet in the Rhone.
The Frey family, which began its trek in the world of wine in Champagne, also owns 45% in shares of the famous Champagne Billecart-Salmon, which was served as I interviewed Caroline Frey for Wine-Searcher.Com.
The vineyard is planted with about 60% Cabernet Sauvignon, 30% Merlot and 10% Petit Verdot, which is rather prominently featured in the first wine. Fermentation takes place in temperature-controlled, stainless steel vats that vary in size to reflect parcel selections. As you can see from a trade tasting photo I snapped from 2004 (below),  the vat room makes it possible to transport harvested grapes by gravity flow into temperature controlled stainless steel vats.

The wine is then aged in between 50% and 60% new French oak barrels for up to 18 months. Caroline Frey knows Denis Dubourdieu very well, as she had studied under him first for her university enology diploma, and then for her internship in 2003 at Chateau Reynon, an estate in Premières Côtes de Bordeaux, which Dubourdieu owns.
One can say that Chateau La Lagune produces a suave style that resembles Margaux elegance, but some years are more evidently robust than others. 2009 is more like Pauillac, while 2010 indeed expresses Margaux delicacy, for example. A common element is the rather floral charm of the aromatics.
I had tasted the superb 2010 vintage in Germany this past March, which counted among the best 2010s in its price category from that UGCB tasting. That feeling was confirmed at the vertical at the chateau in mid June 2013, but what stole the show, as you have read, was Caroline Frey's first vintage: a delectable 2004.
Many thanks to the Frey family and her staff for such a warm welcome. Office manager Karine Joffre, linen and laundry manager Juliana and groundskeeper Stephan were very friendly and helpful.
Recently hired, Canadian chef Catherine Negre has been with the chateau since about six months when I visited and was scene morning to evening at her post in the chateau's gloriously elegant kitchen.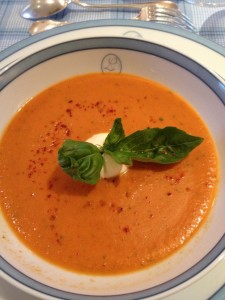 On one evening, I enjoyed dinner at the chateau, and Caroline prepared a tasty gazpacho starter, broiled fish, and superbly prepared mashed potatoes potato puree, modeled after that of Joël Robuchon. The Michelin star winning delicious decadence is derived from the fact that the puree containes about 50% butter – see below.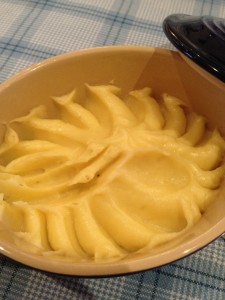 Over dinner, Catherine's cuisine was perfectly paired with the delicious La Lagune 2004, followed by a wine that basically may have been the very best I had for the entire Vinexpo week (stiff competition, because I also enjoyed the delights of Chateau Lafite Rothschild 1990 from magnum at the closing Fete de la Fleur dinner at Chateau Lagrange).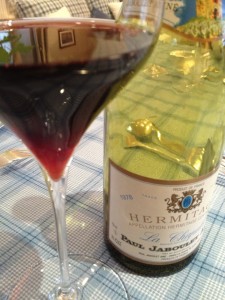 But I can safely say that the Paul Jaboulet Hermitage La Chapelle 1978 was the most memorable wine I have had in a while, let alone for Vinexpo week.
In the video above, you can see my reaction to the wine… simply amazing and as close to "perfection" as one may get. Soon, my notes will be uploaded, to a tasting of a series of wines from Paul Jaboulet at Vinexpo.