Tasting like James Bond at Vinexpo 2013: Ayala and Bollinger
July 14, 2013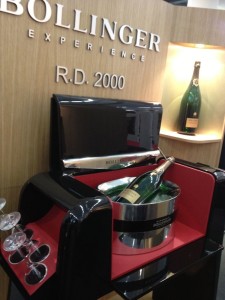 It was Tuesday of Vinexpo at the Bollinger stand where I saw a brand new product announcement with a Jeroboam only format of Bollinger 2000 RD (or recently disgorged). It looked like something out of a James Bond movie: a piano like bar, with a pewter Bollinger branded ice bucket and eight Bollinger flutes designed by Riedel.
Typically, Bollinger releases about 2.5 million bottles of non vintage Bollinger per year, a maximum of 200,000 vintage Grande Années and far less RDs, or recently disgorged bottles.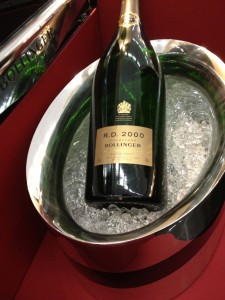 For context, Champagne produces some 300 million bottles annually.
According to a spokesman for this famous Champagne house, the ability of the 2000 to age is not good enough for regular sized bottles, so the company decided to release the wine in 2000 in Jeroboams only – and in this gimmicky manner, the so-called Bollinger Experience.
But only 400 Jeroboams of R.D. 2000 are bottled, 350 in numbered gift boxes and the other 50 included in the "Bollinger Experience." Designed by Eric Berthes, who also collaborated with the house on the "Bollinger bullet" in 2009, the black lacquer structure boasts a red leather lining. The Experience is expensive however, fetching $13,000 – as you can read in Elin McCoy's article published for Bloomberg – she and I were there together.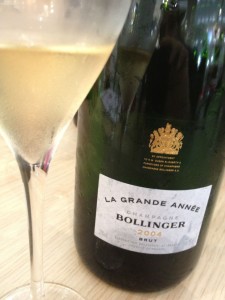 What is a difference between Grande Année and RD Bollinger?
RD spends more time on its dead lees before disgorgement, adding greater complexity to the resulting wine. Furthermore, RD has less sugar per liter. While RD can contain up to about 5 grams of sugar per liter, the Grande Année permits up to 8 grams
I tasted the wines with Elin McCoy of Bloomberg News. Clément Ganier, marketing director, kindly guided us through a tasting of both Ayala and Bollinger.
New bottle form coming for Bollinger
Interesting to note that Bollinger's non vintage Special Cuvée – which spends about three years on its dead lees and is the result of a delicate blending between harvest grapes and a majority of reserve wines, including some, aged in magnums for more than 15 years in Bollinger's cellars – will get a new shape. Ganier said that staff discovered an old, more oval style bottle that was used in 1846, and it was decided to use that form in the future. This particular release included 60 per cent Pinot Noir, 15 per cent Pinot Meunier and 25 per cent Chardonnay, made from grapes harvested in 2009, 2008 and 2000, from magnums fermented on oak barrels (about 10 per cent).
While I liked the Bollinger Grande Année 2004 – 100 per cent barrel fermented, consisting of 37 per cent Chardonnay and 63 per cent Pinot Noir – I found its Rosé version much more impressive.
We also went through a series of Ayala wines, which I really like for their excellent price/quality ratios in Champagne.
Ayala Brut, is made from 40 per cent Chardonnay, 40 per cent Pinot Noir and 20 per cent Pinot Meunier. The wine is left on its dead yeasts for 2.5 years before disgorgement.  At €25, very crisp and nice integration of about 7 grams of residual sugar. A certain purchase.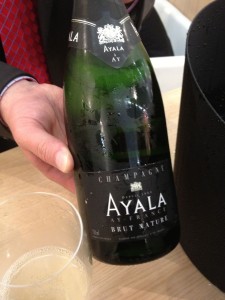 We then tried the same wine, but zero dosage and one more year "sur latte", under the moniker Brut Nature (pictured above), I wondered if it lacks just a bit of richness. It comes across as almost trying too hard to be without opulence, and I get more tartness. Perhaps it would go well with oysters, but it seems a bit ascetic.
Ayala Rose with 55 per cent Chardonnay and 45 per cent Pinot Noir. No bleeding of the tanks to make the wine, but rather blended with 9 to 10 per cent still red wine. With 7 or 8 grams of residual sugar, aged 2.5 years sur latte. Tasty, but did not bowl me over.
Ayala Blanc de Blancs 2005: This is the first vintage Bollinger did for Ayala since purchased in 2005, made from 100 per cent grand cru grapes in Chouilly and Cramant. Very smooth, on the attack and mid palate but I get s somewhat heavy feel – is that just a vintage characteristic? The wine seems to lack just a bit of verve, but toasty and pleasing too.