A great Champagne sealer!
August 11, 2012
Greetings Wine Lovers!
It is August in France, and I am drinking some Champagne. What better drink than a fine cool bubbly on a warm summer's day? I stress: no affiliation with the product I am about to endorse. But the Peugeot Champagne sealer works very well. I had opened a decent Brut Champagne (non vintage) by Montaudon, which I had actually first encountered in Alexandria Virginia, thanks to my good friend Erich Wagner. And then sort of forgot about it. When I went to a French supermarket last month with a colleague from the Council of Europe where I work, I decided to purchase a bottle of this Brut.
It cost only about 20 euros and was worth every (declining in value) eurocent…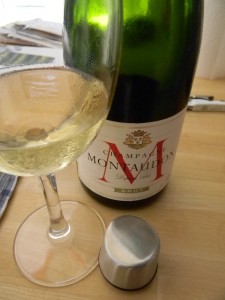 Champagne Montaudon Brut. Purchased for about 20 euros at a large French supermarket. Nothing very profound but tasty and zesty. Notes of lime, green apple, with some pleasing floral notes and hints of chalkiness on the nose, precede a palate this is brisk and savory on the attack, but could it be just a touch over rich on the mid palate? Served cold enough 🙂 it can be tasty enough – especially for a hot summer day. In a word: a decent Champagne that does not kill your wallet. Quite the contrary.
According to the producer, the particular Pinot Noir grown in Montaudon's own vineyards, brings a consistent power to this wine. A soil mainly composed of yellow chalk as well as a quite specific climate in this area provides "a unique wine". Well, I guess so. "The predominance of Pinot Noir provides the structure while a touch of Pinot Meunier rounds the blend. Chardonnay adds the elegance and finesse essential in a perfectly balanced wine." So it is a mix of the three grapes used to make Champagne, and, again, worth the price of admission. Recommended as a good price/quality ratio, and perfect for non wine expert Champagne lovers.
In any case, I can only praise the Peugeot car company for making such an efficient sealer for Champagnes that we do not finish in one go. I actually forgot about this bottle and left it in the fridge for about five days… as you can see in the video, below, Peugeot deserves much praise.