2013 Burgundy samples in November 2013 better than expected
November 19, 2013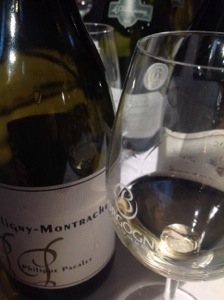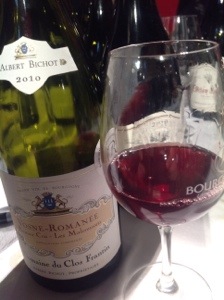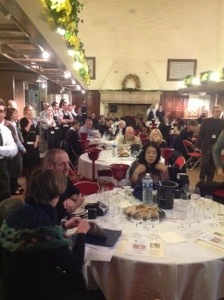 Prices higher and higher in Burgundy reflected in record sales figures at the 2013 Hospices de Beaune auction. Wines tasted at the press conference above, where journalists heard that in 2014, it any Burgundy under €10/$10/£10 in its respective market will "no longer exist" – so said Louis-Fabrice Latour, president of the union of Burgundy negociants. Certainly the fine bottles we enjoyed just after the press conference cost well above that price point… Expected increases in price in 2013, for all levels, from regional to grand cru, will reach between 25-30%. Oh boy, I love Burgundy, but price hikes, I like less.
I joined professional critics to taste the Hospices wines the day before the auction, here some reflections on the wines, which were better than expected, considering the challenges of the vintage.
Whites
Saint Romain Joseph Menault: good energy, crisp and reductive. Strong showing.
Pouilly-Fuisse Francoise Poisard: bit more butter aspect and fatish. Some salt on the finish, but a bit flat.
Meursault Loppin: quite rich, a bit over rich? But certainly smooth.
Meursault Goureau. Hard to taste as it seemed to have some unfermented sugar, with strong butterscotch and somewhat warm finish
Meursault-Porusots Jehan-Humblot 1er Cru: I really liked this one for its precision and freshness, orange rind, citrus, racy and tonic.
Meursault-Genevrieres Baudot 1er Cru: broader palate, white peach, peach pit, pleasing but not as precise
Meursault-Genevrieres Philippe Le Bon 1er Cru (this was the president's barrel, which raised just over €131k for two charities): spicy, honeysuckle, pine tree, complex aromatics, smooth but nuanced palate, broad finish. Quite good.
Meursault Charmes de Bahezre de Lanlay 1er Cru: quite a vibrant expression, evident lack of malolactic fermentation, sharp finish
Meursault-Charmes Albert Grivault 1er Cru: I really liked the grapefruit freshness, smooth yet tonic, linear and decent finish.
Corton-Vergennes Paul Chanson Grand Cru: broad entry and somewhat flat palate, lacking verve.
Corton-Charlemagne Roi Soleil GC: light color, with a candied nose, vibrancy mid palate, bright throughout, a touch sharp in finish but malo should sort this out.
Corton Charlemagne Francois de Salins GC: showed some oak derived spice and then very broad on the palate, too much so, a touch flat
Batard Montrachet Dames de Flandres GC: pine forest, pine nut, herbal, palate is layered and subtle, with sneaky depth, and a refined sense. I was not as impressed as some other tasters, wondering about how malo could make this too low acid for long haul, but there is much aromatic interest.
Reds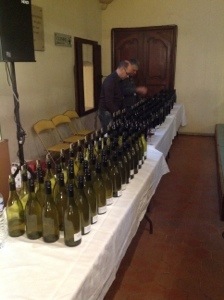 Santenay Christine Friedberg: good clean expression of somewhat tart red fruit.
Pernand Vergelesses 1er Cru Rameau-Lamarosse: more body here, more substance – almost surprisingly so.
Savigny-Les-Beaune 1er Cru Fouquerand: Solid and crunchy with medium lSavigny-Les-Beaune 1er Cru
Savigny-Les-Beaune 1er Cru Arthur Girard: similar to above but a bit more tart
Savigny-Les-Beaune 1er Cru Forneret: Funky and diluted plus a touch of austerity…
Monthelie 1er Cru Lebelin: CO2 made it hard for me to taste
Auxey-Duresses 1er Cru Boillot: This is more solid with cleaner and crisper red fruit.
Beaune 1er Cru Maurice Drouhin: I liked the sap from this wine, suave and verve
Beaune 1er Cru Brunet: softer and broader overall
Beaune-Greves 1er Cru Pierre Floquet: deeper nose, more precision in the palate and long finish: a winner
Beaune 1er Cru Clos des Avaux: this was nice too, albeit some CO2 distracted, but clean enough and good fruit expression.
Beaune 1er Cru Rousseau-Deslandes: I liked this more for its brambly cranberry fruit, and superior purity.
Beaune 1er Cru Dames Hospitalieres: this was clean and juicy, very good mid palate concentration.
Beaune 1er Cru Guigone de Salins: perhaps the weightiest of all the Beaunes, with full bodied aspect along with pure fruit. Friend and fellow taster Jane Anson bid on three bottles via negociant Albert Bichot, she liked this that much – as did professional critic Michael Apstein of Wine Revue Online
Beaune 1er Cru Nicolas Rolin: This was more elegant and perfumed, and although some were excited with the Beaunes, I got more interested when we got to the next two wines…
Volnay 1er Cru Muteau: very smooth and great juiciness and depth. I would bid on this.
Volnay 1er Cru Blondeau: even better, ripe and rich with fine dark cherry aromas and flavors, very aromatically appealing. Clean and no sign of any hail taste, which is impressive considering that Volnay was hard hit by hail.
Volnay Santenots Jehan de Massol 1er Cru: a let down, funky nose and underripe almost stemmy aspect. Hard finish.
Volnay Santenots Gauvain 1er Cru: this has more juice, somewhat dry finish however.
Pommard Suzanne Chaudron: this is broader, more enveloping on the palate with richness and sap, nice.
Pommard Raymond Cyrot: I rather like this lighter styled Pommard, more elegant.
Pommard Epenots Dom Goblet 1er Cru: this is weightier, with more evident tannin and just a bit of drying oak?
Pommard Dames de la Charite 1er Cru: this was a bit hard to assess with some unfermented sugar, seemed edgy.
Corton Charlotte Dumay Grand Cru: interesting how fellow tasters Amanda Regan and Michael Apstein agreed that this was their favorite red. A beautiful nose, very pure and clean, bright cherry and subtle depth.
Corton Docteur Peste Grand Cru: too much unfermented sugar to understand this one.
Corton Clos du Roi Baronne du Bay Grand Cru: quite agreeable entry, round mid palate, a bit strict and tight on the finish but shows promise.
Echezeaux Grand Cru Jean-Luc Bissey: Smooth and elegant if just a bit too smooth. I had a feeling that it lacked a bit of depth for its pedigree.
Clos de la Roche Grand Cru Cyrot Chaudron/Georges Kritter: this was substantial and long wig energy. A seriously fine wine.
Mazis Chambertin Grand Cru Madeleine Collignon: I had a hard time with unfermented sugar but more experienced palates like that of Bernard Burtschy loved this.